Dallas vs. Miami: Which City is Best? In-Depth Comparison
Posted by Jeff Knox on Sunday, May 2, 2021 at 8:59 AM
By Jeff Knox / May 2, 2021
Comment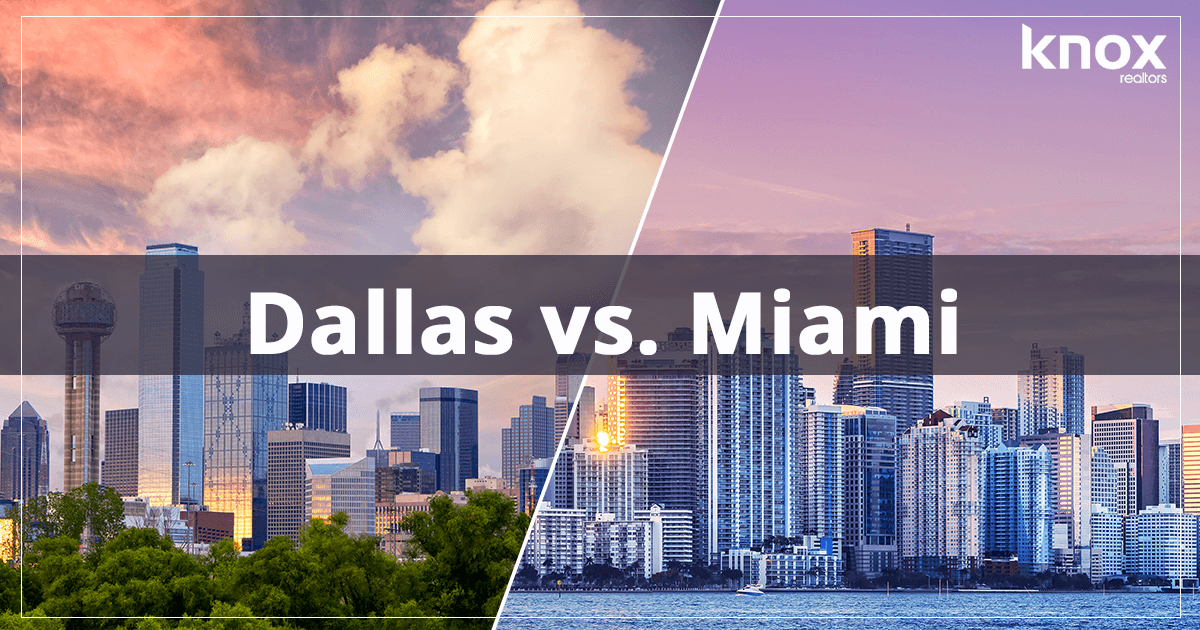 Dallas and Miami are both exciting and vibrant cities, each with its own distinct character and flavor. Both cities have seen an explosion in growth in the past few years, attracting transplants from all over the world. The resulting cultural diversity has only added to the appeal of living in both Dallas and Miami, but there are still significant differences between the two.
If you're thinking of relocating to Dallas or Miami, read on to learn more about which city might be the best choice for you!
Overview
In terms of size, the City of Dallas is much larger than Miami, covering around 383 square miles. Excluding its expansive metro area, Miami only takes up a compact 55 square miles.
Dallas has a much larger population, too, with 1.3 million people calling the city home, compared to Miami's 478,000. However, when we look at the metro area population of both cities, each has a population of approximately 6 million.
Both Dallas and Miami are home to a well-educated population, with around 30 percent of residents holding a college degree.
Politically, both cities are left-leaning, with a substantial majority of the population identifying as Democrats. However, although this still holds true for Miami's metro area, the Dallas-Fort Worth metro area is split fairly evenly between Democrats and Republicans.
Lifestyle and Culture
Dallas and Miami are friendly, welcoming places, and it's easy to move to either and quickly find your groove. Miami is, perhaps, the more relaxed of the two cities, with a laid-back vibe that's reflected in its multicultural population and beach-centric lifestyle. Dallas is known for its Southern charm and hospitality, and folks here love to get dressed up and hit the town.
When it comes to transportation, every big city has its own traffic problems. Traffic in South Florida is widely regarded to be among the worst in the country, and sitting on congested freeways is an accepted part of life. On the other hand, Miami has a great public transit system, and if you live in a central, neighborhood like Brickell, you won't necessarily need to own a vehicle.
Dallas has its own fair share of traffic congestion, and because it's very spread-out, owning a car here is almost a necessity. There's an extensive light-rail network in Dallas, though it can be very confusing to use.
Both cities are extremely diverse, with an eclectic population of residents from all over the world. This exciting diversity is evident in all aspects of life, ranging from art and fashion to food and music, and adds to the cultural richness of both Dallas and Miami.
Residents of both Dallas and Miami are spoiled for choice when it comes to art and cultural options. Miami's fascinating architectural heritage is evident at every turn, and its pastel-hued Art Deco and Miami-Modern buildings are a joy to behold. There are museums throughout the city, including Pérez Art Museum and the Museum of Contemporary Art, and neighborhoods like Wynwood and the Design District are full of galleries and public art.
Dallas is also home to vibrant and eclectic art and cultural scene and is home to world-class museums like Perot Museum of Nature and Science and Dallas Museum of Art. Dallas' Arts District is the city's cultural hub, and it's here that you'll find the striking Meyerson Symphony Center and the Winspear Opera House.
Both cities play host to an incredible selection of events and festivals throughout the year, and there's always something special going on. Dallas is home to the fantastic Dallas International Film Festival, the quirky Deep Ellum Arts Festival, and the wonderful Taste of Dallas Festival. Living in Miami means you'll get to enjoy huge multi-neighborhood events like Miami Fashion Week, Miami International Boat Show, and Miami Beach Pride.
Cost of Living
When it comes to comparing the general cost of living in Dallas and Miami, we can get a clearer idea of the differences in several categories by looking at Wolfram Alpha's cost of living index. A score of 100 represents the national average in each category:
| | | |
| --- | --- | --- |
| | Dallas | Miami |
| Grocery | 96 | 122 |
| Healthcare | 114 | 107 |
| Housing | 116 | 136 |
| Miscellaneous | 104 | 100 |
| Transportation | 90 | 103 |
| Utilities | 109 | 101 |
| Overall | 106 | 114 |
As we can see from the table, the cost of living in Dallas is lower. The primary reason for this is cheaper housing costs. Housing costs in metropolitan coastal cities are typically more expensive compared to a landlocked one.
Having said that, it's worth noting that both cities have a very low cost of living when compared with other large U.S. cities. For example, Los Angeles has an overall score of 147, while San Francisco clocks in at 192, so both cities are comparatively inexpensive compared to other large cities.
Real Estate
We've already noted that housing costs are much higher in Miami, which is to be expected, given that it's a coastal city. There's also a much higher concentration of luxury real estate here, with an extensive collection of high-end condo towers offering impressive views and resort-style amenities, as well as expensive waterfront properties along the city's many canals and waterways.
Dallas is a much larger and more sprawling city, so developers aren't forced to build up like they are in dense, compact Miami. This means you're much more likely to find an affordable single-family home here, rather than a condo in a high- or mid-rise building.
To put things into perspective, in Miami-Dade County condos represent around 80% of the residential real estate inventory. In Dallas, less than 10% of the real estate inventory is condos.
Both cities offer a wide array of architectural styles. Miami is famous for its Art Deco architecture, as well as other mid-century styles, but you'll also find Mediterranean, modern, and ranch-style homes. In Dallas, you'll find American Colonial, Ranch, and French-style single-family homes, as well as many other architectural styles.
Entertainment, Recreation & Nightlife
Dallas and Miami are each filled with parks and green spaces, making them excellent choices for those who enjoy an active lifestyle. Dallas is known for having a plethora of amenity-rich parks such as Klyde Warren Park and Main Street Garden Park. Likewise, Miami has numerous parks featuring lush, tropical landscaping, as well as miles of beaches and waterways that are ideal for boating and water sports.
Both cities offer seemingly endless shopping opportunities, ranging from small, unique boutiques to huge malls offering big-name brands. Miami's dining scene is world-famous, and there are any number of restaurants serving up cuisine from every corner of the globe. There are cutting-edge, chef-driven restaurants here, as well as undiscovered local gems. While the dining scene in Dallas isn't as celebrated, there's still a lot to choose from, and the city's cultural diversity is reflected in its eclectic choice of restaurants.
Miami is synonymous with glamorous nightlife, and some of the most famous nightclubs in the world are located in South Beach. Bars, clubs, and sidewalk cafes line Ocean Drive and Washington Avenue, and the partying is in full swing until the early hours. Other Miami neighborhoods with top-notch nightlife include the hipster haven of Wynwood, and the buzzing, exciting streets of Brickell, which are filled with elegant cocktail lounges, bustling sidewalk cafes, and an ever-expanding collection of awesome restaurants.
It's difficult for Dallas to compete with Miami's nightlife scene, but that's not to say that Dallas doesn't know how to have a good time. There's vibrant, fun-filled nightlife throughout Dallas, with plenty of neighborhoods to choose from. Uptown/Oaklawn is packed with clubs, bars, and restaurants, and Elm Street, in the famous Deep Ellum neighborhood, is lined with a parade of themed bars and live music venues that keep the party vibes going every night.
Sports fans will be happy in either city. Miami is home to the Miami Dolphins (NFL), Miami Marlins (MLB), and Inter Miami (MLS). The Dallas Cowboys host some of the most well-attended home games in the NFL, while FC Dallas has been helping to boost the popularity of the MLS.
Weather, Climate & Geography
Dallas and Miami both enjoy long, hot summers, although Miami tends to be much more humid. This can be a dealbreaker for some people, and although there are breezes by the Atlantic Ocean and frequent bursts of rain throughout the summer, the mugginess can become quite overwhelming. On the other hand, winter in Dallas can be quite cold and windy, unlike Miami, where temperatures stay comfortable throughout the winter months.
Both cities feature homes that are designed to stay nice and cool during hot weather. However, you should bear in mind that extremes of weather are part of life in both cities, with hurricanes an annual concern in Miami and tornadoes a reality in Dallas. Aside from the obvious safety issues, weather-related property damage can be a concern for homeowners in both cities.
Miami is a coastal city, and there are miles of beautiful white sand beaches to explore, as well as an extensive network of picturesque canals and waterways. Although Dallas is landlocked, there are dozens of lakes dotted throughout the metro area, as well as White Rock Lake within the city limits.
The tree canopy in both cities has been steadily increasing for years, thanks to local initiatives aimed at encouraging the planting of more trees. Apart from helping to combat climate change, this increase in tree canopy also provides valuable shade and helps cool city streets.
Economy
Both Dallas and Miami have vibrant, diversified economies. The Dallas-Fort Worth metro area is home to 23 Fortune 500 companies, with 10 of those headquartered in Dallas proper. AT&T, Southwest Airlines, and Texas Instruments are among the companies that call Dallas home, as well as 28 members of the nation's billionaire club.
Dallas is the third most popular destination for business travel in the United States, and the Kay Bailey Hutchison Convention Center is one of the largest and busiest in the country.
Miami is home to fewer Fortune 500 companies than Dallas, but that doesn't mean its economy isn't thriving. Tourism is one of Miami's largest private-sector industries, with the city's hospitality and cruise ship sectors employing thousands of local residents. PortMiami is one of the largest ports in the nation. As well as being the "Cruise Capital of the World", PortMiami is an extremely busy cargo hub.
Miami is also an important center for international banking and finance, with a huge concentration of international banks in its Brickell financial district.
Conclusion
It's almost impossible to pick a "best city" when it comes to Dallas vs Miami. As we've seen, both cities are exciting and diverse, and both have their pros and cons.
Miami is more likely to appeal to those who want to be close to the beach and like to have access to constant partying and an eclectic dining culture. Although it's the more expensive city to live in and the humidity can be a challenge, many will find that it's worth it to live in a culturally rich and engaging city.
Dallas, on the other hand, will appeal to those who would rather live in a city with more space. You're more likely to find a single-family home in Dallas, and although you'll spend more time in your car, you'll still be living in a dynamic and exciting city with loads to offer.