Dallas vs. Atlanta: Where Is Better to Live?
Posted by Jeff Knox on Wednesday, October 9, 2019 at 12:06 PM
By Jeff Knox / October 9, 2019
Comment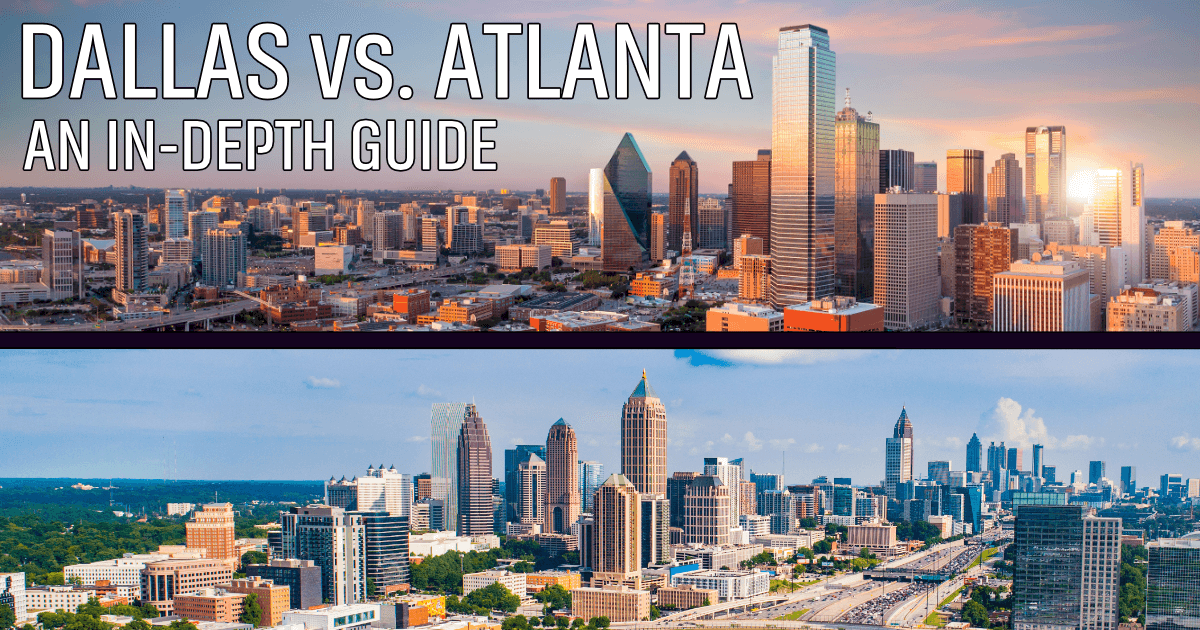 Dallas vs. Atlanta: An In-Depth Comparison
As a real estate professional in Dallas, I am constantly asked by my clients to compare Dallas to Atlanta. This makes sense because both cities are similarly sized and offer similar amenities. Additionally, both cities attract a significant volume of transplants from states like New York and California because of their low cost of living.
Chances are, you may be considering moving to Dallas or Atlanta and want the "inside scoop" on the real differences between these two cities. Let's dive in!
Overview
The City of Dallas measures out at 385 square miles, which is significantly larger than the City of Atlanta's 133 square miles. Correspondingly, Dallas features a larger population than Atlanta with 1.3 million people versus Atlanta's 486,000 residents. However, both tend to have similarly sized metropolitan areas, with Dallas comprising of 6.25 million people to Atlanta's 5.35 million inhabitants.
Regardless, both cities have experienced double-digit growth in the past decade and are amongst the fastest-growing metropolitan areas in the United States.
Both cities are well-educated, with around half of those in Atlanta having graduated college and a third in Dallas. Below you will find the corresponding graduation rates for both cities:
| | | |
| --- | --- | --- |
| | Atlanta, GA | Dallas, TX |
| High school graduation rate | 88% | 74% |
| College graduation rate | 47% | 29% |
| Graduate school graduation rate | 88% | 74% |
Source: Open Data Network
Politically, the City of Dallas and Atlanta both are both solidly liberal and considered strongholds for the Democrat Party. However, both of their respective metropolitan areas are "purple", with a near-even split between Democrats and Republicans.
Cost of Living - Which is more Expensive?
Winner: Atlanta
Using WolframAlpha's cost of living index, we are able to compare how much a particular basket of household goods costs in each city. Keep in mind that a score of 100 represents the average cost of that particular good in the United States.
| | | |
| --- | --- | --- |
| | Dallas | Atlanta |
| Grocery | 102 | 102 |
| Healthcare | 105 | 107 |
| Housing | 113 | 104 |
| Transportation | 94 | 100 |
| Utilities | 108 | 86 |
| Miscellaneous | 106 | 105 |
| Overall | 107 | 102 |
While both cities are more expensive to live in compared to the average city in the United States, Atlanta is slightly more affordable. The biggest advantage Atlanta has over Dallas is cheaper housing and utility bills.
However, when these results are put into context both cities have a remarkably low cost of living. Dallas and Atlanta are both large metropolitan areas with plenty of big-city amenities, and yet both cities are just slightly more expensive to live in compared to the average city in the United States.
While Atlanta is technically the winner here, both cities offer a very low cost of living, all things considered. This is especially true when you compare it with other cities like Boston (Overall score of 153) and Seattle (Overall score of 159). Even some mid-sized cities are unable to offer a similar quality of life. According to Great Vancouver Homes, the cost of living in Vancouver, Washington (a town of around 200,000 people) is higher than Dallas and Atlanta.
Real Estate
Winner: Toss Up
The annual median price of a home in Dallas is $175,600. This is more expensive than the median home in Atlanta, which is $139,500. Interestingly, average rents in Dallas tend to be lower than Atlanta ($1239 monthly rent versus $1,679).
Looking for a Dallas real estate agent? Contact us to talk to local experts.
Significantly more people own a home in Dallas rather than rent, which makes sense given Texans' preference for independence. This contrasts with Atlanta, where most decide to rent.
Both Atlanta and Dallas have a wide array of architectural home styles. However, Dallas features a higher concentration of Mediterranean and Ranch style homes than Atlanta. Conversely, Atlantans tend to prefer Bungalow and Colonial style homes.
Atlantans also prefer attached living moreso than "Dallasites". Despite the CIty of Atlanta featuring nearly three times fewer residents, there are more condos and townhomes in Atlanta than in Dallas.
Ultimately, this one boils down to personal preference. While real estate in Atlanta is cheaper to purchase, rents are more expensive.
Entertainment
Winner: Toss Up
Atlanta and Dallas both have professional football, basketball, baseball, and soccer teams. That being said, Dallas is more culturally invested in sports than Atlanta. The Dallas Cowboys home games are among the most-attended sporting events in the country. Atlanta has seen some growing sports interest, especially with its MLS team "Atlanta United", but it simply cannot compete with Dallas' fandom.
However, Atlanta is referred to as "The Hollywood of the South" due to its abundant amount of film and television production. For example, Turner Broadcasting and Tyler Perry Studios are headquartered in Atlanta. The State of Georgia also provides generous tax credits, resulting in a lot of film production taking place in the state. Top productions like the television show The Walking Dead and The Avengers films were filmed in the Atlanta area.
Atlanta is also considered the hip-hop capital of the world. Famous rappers such as T.I., Ludacris, and Usher also found their start in Atlanta. The city attracts a lot of up-and-coming rappers trying to get their start. In fact, there's even a critically-acclaimed television show which showcases an up-and-coming rapper trying to "make it" in Atlanta.
Again, this one is a toss-up because it depends on what matters more to you. Sports fans will prefer Dallas, whereas fans of hip hop will prefer Atlanta.
Nightlife
Winner: Atlanta
While both cities feature an assortment of nightlife opportunities, Atlanta has an undeniable advantage due to its reputation as one of the top party cities in the country. Why is this? Well, Atlanta is the destination city for many trying to make it in the music and entertainment business, so there is no shortage of parties.
You can find the best nightlife in Dallas' Uptown neighborhood, which hosts an assortment of upscale bars and clubs. In Atlanta, party animals should check out the Buckhead and Midtown neighborhoods for some of the best nightlife in the South.
Traffic
Winner: Dallas
It's no secret that Atlanta has a traffic problem. According to the Global Traffic Scorecard, Atlanta is a fundamentally more congested city. Atlantans waste an average of 108 hours a year in traffic compared to 76 hours in Dallas. There's such a bad traffic problem in Atlanta that many residents try to live as close as to their work as possible to avoid an insufferable commute.
Put simply, Dallas incorporates better city planning. The highway system was intelligently designed and surface streets are often designed in grids. This contrasts Atlanta, which features a lack of arterial roads and a plethora of highly questionable city planning decisions.
However, both cities are sprawling and car-centric. Residents will need a car to get around either city.
Weather, Climate & Geography
Winner: Toss Up
Dallas and Atlanta feature a comparable situation in terms of weather. Both cities feature subtropical climates, meaning residents can expect hot and humid summers with mild winters. While Dallas is a slightly hotter city than Atlanta, it's also less humid and rains less.
The following chart below demonstrates the climate differences between Dallas and Atlanta, from Dallas' perspective.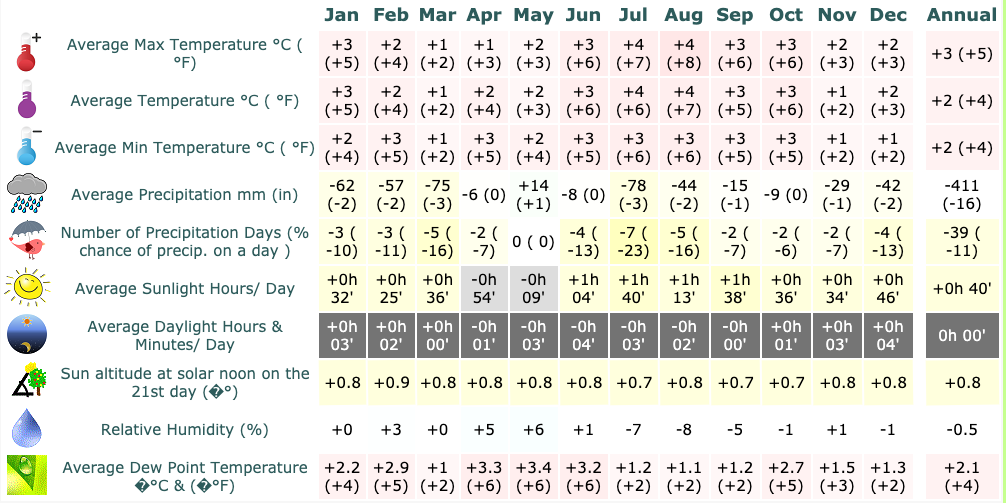 Mainly, it comes down to personal preference. Some people don't mind Dallas' more intense weather because it's less humid, whereas some prefer Atlanta's milder summers and don't mind the humidity.
Dallas includes a lake within its city limits (White Rock Lake) and a wide variety of lakes within the metropolitan area. This contrasts with Atlanta, which features no lakes within city limits with the nearest lake (Lake Lanier) being around an hour away.
Atlanta also features an impressive tree canopy unlike any other city of its size. Commonly referred to as a "city in a forest", there are plenty of tree-lined streets and urban forests in Atlanta. This contrasts with Dallas, which has far fewer trees. It's indisputable that Atlanta is a much more scenic city.
Crime
Winner: Dallas
While neither city has an exemplary record on crime, Atlanta has 44% more reported crimes than Dallas. This is based on data from AreaVibes which indicates that Atlanta features a total of 5,712 property and violent crimes (versus 3,960) per 100,000.
Atlanta has more crime in large part because of the high amount of non-violent thefts that take place. To put things into perspective, Atlanta has nearly twice the amount of per capita thefts compared to Dallas. This may be in part because of Atlanta's persistent problem with homelessness.
Economy
Winner: Dallas
This one was close, but Dallas edges out Atlanta in terms of its economy. The city features one of the most economically dynamic metropolitan areas in the country.
Compared to Atlanta, Dallas features a lower unemployment rate, lower sales tax, and zero state income taxes. Dallas has also seen an onslaught of foreign home buyers at a magnitude that isn't present in Atlanta.
Here's a chart detailing the differences on a granular level: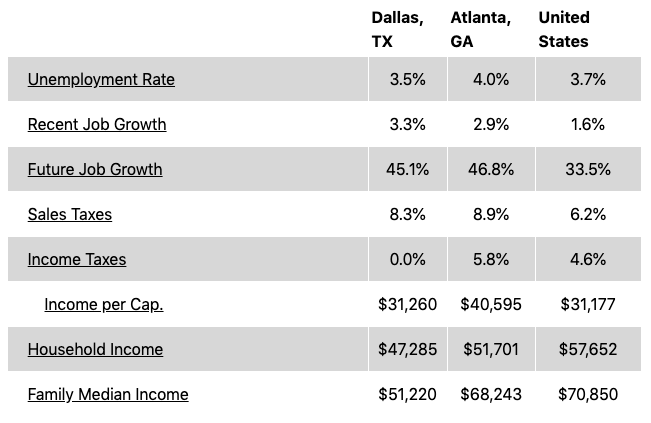 Both Dallas and Atlanta are the home of many Fortune 500 companies. Dallas features Exxon Mobil, AT&T, and American Airlines, whereas Atlanta features The Coca Cola Company, The Home Depot, and Delta Airlines.
Fun fact: both Atlanta and Dallas are the location of a Federal Reserve Bank!
Conclusion
At the end of the day, it's hard to go wrong with either choice. There are many reasons to love both Dallas and Atlanta, as both cities feature a dynamic and diverse population with bright futures ahead.
ABOUT THE AUTHOR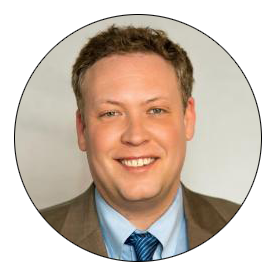 Jeff Knox is the Broker Owner of Knox & Associates REALTORS® in DFW and the creator of most of the content on KnoxRE. Jeff's real estate articles and opinions have been featured on websites like Realtor.com, Fox News, U.S. News & World Reports, Inman, RISMedia, and more.
Jeff was initially licensed in 2004 and has held a Texas Real Estate Broker's License since 2009. Jeff and his team of REALTORS® work all across the entire DFW Metroplex helping both buyers and sellers with condos, townhomes and single-detached properties. Jeff may be reached directly at [email protected]